About this Cookie Policy.
This Cookie Policy explains what cookies are and how we use them. It includes details of the types of cookies we use i.e. the information we collect using them and how that information is used.  It also explains how you can control your Cookie Preferences.
Use of Cookies is likely to change over time or when we introduce a new service or function to our website.  To ensure that this policy remains up to date, regularly carry out 'Cookie Audits' and update our list of cookies where needed.
This policy was last updated on 14th July 2020.
You can learn more about who we are, how you can contact us and how we process personal data in our

Privacy Policy

.
Cookies are small text files that are placed on your device by websites you visit, whenever you load them on your browser.  They are used to store small pieces of information. These cookies help us make the website function properly, make it more secure, provide a better user experience, and understand how the website performs and by analysing what works and where we can make some improvement.
We use First Party Cookies on our website which are Analytics Cookies, used mainly for understanding how the website performs, how you interact with it, and all in all providing you with a better and improved user experience and help speed up your future interactions with our website.  These are non-necessary cookies and you can choose whether or not to accept them.
These cookies are disabled until you provide your consent.  You will see a banner when you first visit our site asking you to accept these cookies, however you can also reject these cookies by simply clicking on the 'X' and closing the banner.
When you access our Gallery, you are redirected to our ShootProof Domain.  We do not have control over the cookies or privacy policies for ShootProof and we recommend that when you access this or find us via a link or social media site, that you review the privacy policies and cookie settings of those sites too.
So what types of cookies do we use ?
Necessary cookies are absolutely essential for the website to function properly. This category only includes cookies that ensures basic functionalities and security features of the website. These cookies do not store any personal information.  Generally they only collect confirmation of your consent.
We use Analytics cookies to help us to understand how our visitors interact with the website and the number of visitors and pages they visit. It helps us to improve our site and our services. The cookies collect this data which is reported to us anonymously. They do not collect your personal data.
The below list details the cookies used in our website.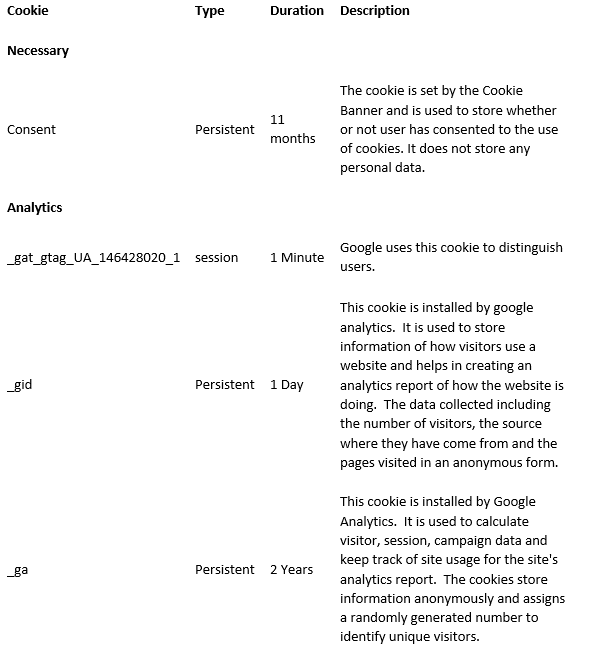 How can I control the cookie preferences ?
Should you decide to change your preferences later, different browsers provide different methods to block and delete cookies used by websites. You can change the settings of your browser to block/delete the cookies. To find out more out more on how to manage and delete cookies, visit wikipedia.org, www.allaboutcookies.org.